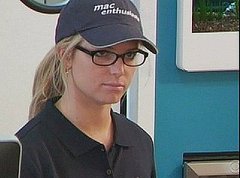 CBS celebrates April Fool's Day by putting Heidi Klum in a pizza parlor for the sole purpose of pranking the public.
"I didn't wear makeup and I had my hair in a bun with a pencil in it," Heidi tells ET. She says no one told her how to disguise herself, but she felt that if she showed up in full makeup, she would be too easily recognized.
"I got to be the pizza girl. I got to be someone I am normally not. I was quite rude to people. I would bite their pizza and give it to them. I would drop the dough on the floor, pick it up and use it," the "Project Runway" host continues.
Heidi headed to the pizza parlor as part of "I Get That A Lot," a one-hour special featuring celebrities tricking everyday folks in a case of supposed "mistaken identity." Working ordinary jobs, the celebrities confuse customers who can't decide if it's the actual celebrity or an astonishing look-alike.
To give the pizza parlor's customers a fighting chance at recognizing the supermodel in her new role, her photo was slipped among a host of other photos on a wall that pictured celebs who had previously visited the restaurant.
"I got a lot of [phone] numbers," Heidi says, laughing. "I was flirting. I don't usually do that because I am happily married."
Jessica Simpson, "Survivor"'s Jeff Probst, Ice-T, and LeAnn Rimes are also on the special claiming a case of "mistaken identity" when someone recognizes them.
Jessica worked at a computer repair store; Jeff ran a cash register at a grocery store; Ice-T posed as an athletic shoe salesman and LeAnn took food orders at a Nashville diner.
"I Get That A Lot" airs Wednesday, April 1, at 8 p.m. on CBS.