The third time's a charm for Blake Shelton or is it just more "BS?"   The hot country singer once again made People Magazine's "Sexiest Man Alive" issue.    As you can see from his reaction in the video from 2008, the Oklahoma hottie takes it all in stride.   Blake didn't take the title, that went to actor Channing Tatum, but Miranda Lambert's hubby is a three -peater in 2008, 2010 and this year!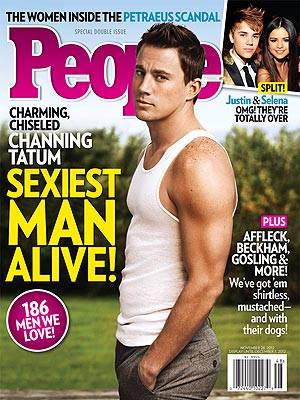 How does he dot it?  He's "very caring and loyal" says Miranda.    Blake was also dubbed sexiest guy in all of Oklahoma in People.com's "United States of Sexy" list honoring hot celebs from every state.  No slackers here, Dierks Bentley made the list representing his home state of Arizona and so did West Virginia native Brad Paisley.    Read all about it here.   Luke Bryan was chosen as one of People's "Men of the Year" and Jake Owenis also featured with his dog Vern, as one of their "Sexy Guys Who Love Their Dogs."

Not Dierks' first time in People...check this out from 2009
And Brad from the same year!