What was up with Carrie Underwood's crazy dress at the Grammy's last night?   As usual, she stunned on the red carpet before the show began in a Robert Cavalli sparkler, but changed into a silver princess number for her performance of "Blown Away."    While we're used to Carrie wardrobe changes, this dress was like a movie!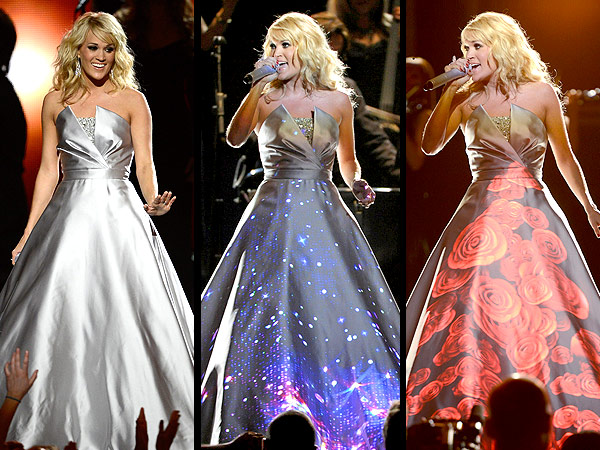 "We wanted it to be artful and dramatic," Carrie told reporters backstage as reported by People. "I just like to stand still and sing sometimes, so this seemed like the best way I could do that and still create something visually attention-capturing."   How did it work?  To perform the song that won her best solo country performance,
http://www.youtube.com/watch?v=OPwRXLLhpdo
Carrie wore a custom Theia gown designed specifically for the vivid light show.   People says, "The line's creative director Don O'Neill sourced fabric for the 4 feet 5 inches-wide skirt that had to be approved by both Carrie's stylist, Trish Townsend, as well as the video team creating the special effects.    With only three days to create the gown, O'Neill's team worked around the clock, stitching together 10 yards of Duchesse satin, 100 yards of tulle and crinoline and thousands of Swarovski crystals onto the bodice.    Meanwhile, the production team created the effects that were projected onto her gown, including sparkling stars, rose petals and butterflies."  Read all about it here.